Sizzle
Model Selected:
Crimson Blaze
Tifosi's lifestyle shield sunglasses for runners, racket sports and golf, are here to turn heads and heat things up!
Transform your running experience with Tifosi's Sizzle Shield Sunglasses—the ultimate choice for runners seeking a perfect blend of style and performance. Crafted to enhance your performance while ensuring optimal eye protection, these running sunglasses are designed to take your runs to the next level.
Durable Design For Intense Workouts
Crafted with a robust Grilamid TR-90 frame, Sizzle sports sunglasses are meticulously designed to endure the rigors of various activities, from pounding the pavement during runs to navigating challenging terrains. Whether you're engaged in the swift strides of running, the dynamic movements of pickleball, the precise swings of golf, or the exhilarating rides of cycling, these sunglasses ensure a secure fit, promising distraction-free performance in every athletic pursuit.
Exceptional Clarity And UV Protection
Beyond durability, Sizzle prioritizes the safety of your eyes. Shatterproof polycarbonate lenses provide exceptional clarity and protection, shielding your eyes from harmful UV rays. With UVA/UVB protection, confidently stride under the sun, assured that your eyes are well-protected.
Comfortable Design For Long-Distance Runs
Comfort is paramount during long-distance runs and other sports activities. Sizzle running sunglasses are meticulously designed with your comfort in mind. The lightweight (24 grams) and ergonomic construction ensure a snug fit that won't cause discomfort or distractions. Focus on your pace and performance, knowing that your sunglasses will keep up with you.
Style Meets Athleticism
Sizzle Shield Sunglasses go beyond ordinary running shades; they are a statement of your commitment to both style and athleticism. Stand out from the crowd and make a lasting impression with these sleek sunglasses. Specifically designed for runners, they exude the perfect combination of fashion and functionality.
Maximize Your Running Potential
Don't settle for subpar sunglasses when you can enhance your running experience with Sizzle Shield Sunglasses. These running sunglasses are the ideal companion for your daily runs, races, and outdoor adventures. Maximize your potential and seize the spotlight with Sizzle.
KEY FEATURES OF SIZZLE
LENS TECHNOLOGY ➤ The shatterproof polycarbonate lenses with UVA / UVB protection provide optimal protection from harmful UV rays
ULTRA LIGHT FRAME ➤ Only 24 grams made of Grilamid TR90, durable and lightweight for all day comfort
FRAME TECHNOLOGY ➤ Frame features integrated hinge which never pulls hair, hydrophilic nose pads for increased gripping, and Tifosi Glide technology allows the frame to slide on comfortably and provide a no-slip fit
IDEAL FOR ➤ Cycling 🚲, Golf ⛳, Hiking 🥾, Running 👟, Tennis & Pickleball🎾, Lifestyle 😎
FIT ➤ Small - Medium
INCLUDED ➤ Microfiber Cleaning Bag
So if you're looking for a stylish and functional pair of sunglasses that will keep you looking and feeling great while you're out and about, look no further than our Sizzle sport sunglasses. With their durable construction, superior performance, and stylish design, these shades are the perfect accessory for anyone who wants to sizzle!
SHIPPING
Orders placed by 2pm EST on business days will ship that day. Orders placed after cut-off will ship the next business day. Tifosi offers free shipping on orders $25 and up.
FREE RETURNS
If you're looking to return your order for whatever reason, we're here to help! We offer free returns within 30 days of receiving your order.
LIFETIME WARRANTY
At Tifosi Optics™ we have built our name through our customer service and standing behind our product 100%. Therefore, we will warranty any sunglass against manufacturer's defects to the original owner for the life of the product. Tifosi Optics will either replace or repair your glasses at our discretion. Learn more about warranty claims.
Warning California's Proposition 65
The Tifosi Sizzles are my go-to summer shades because they're affordable and easily transition between outdoor activities and everyday life.
After wearing Tifosi's Sizzle shades for the last month, the question that comes to mind isn't why the $35 Sizzle are so cheap, but why other sunglasses cost so much.
For such a great package, you'd be forgiven for thinking that the Sizzle might also be packing a high retail price. Like all the sunglasses in the Tifosi range...they blow the competition right out of the water at only $35.95!
The Sizzle is built for performance but styled for all-day aesthetics, making it the perfect summer eyewear companion.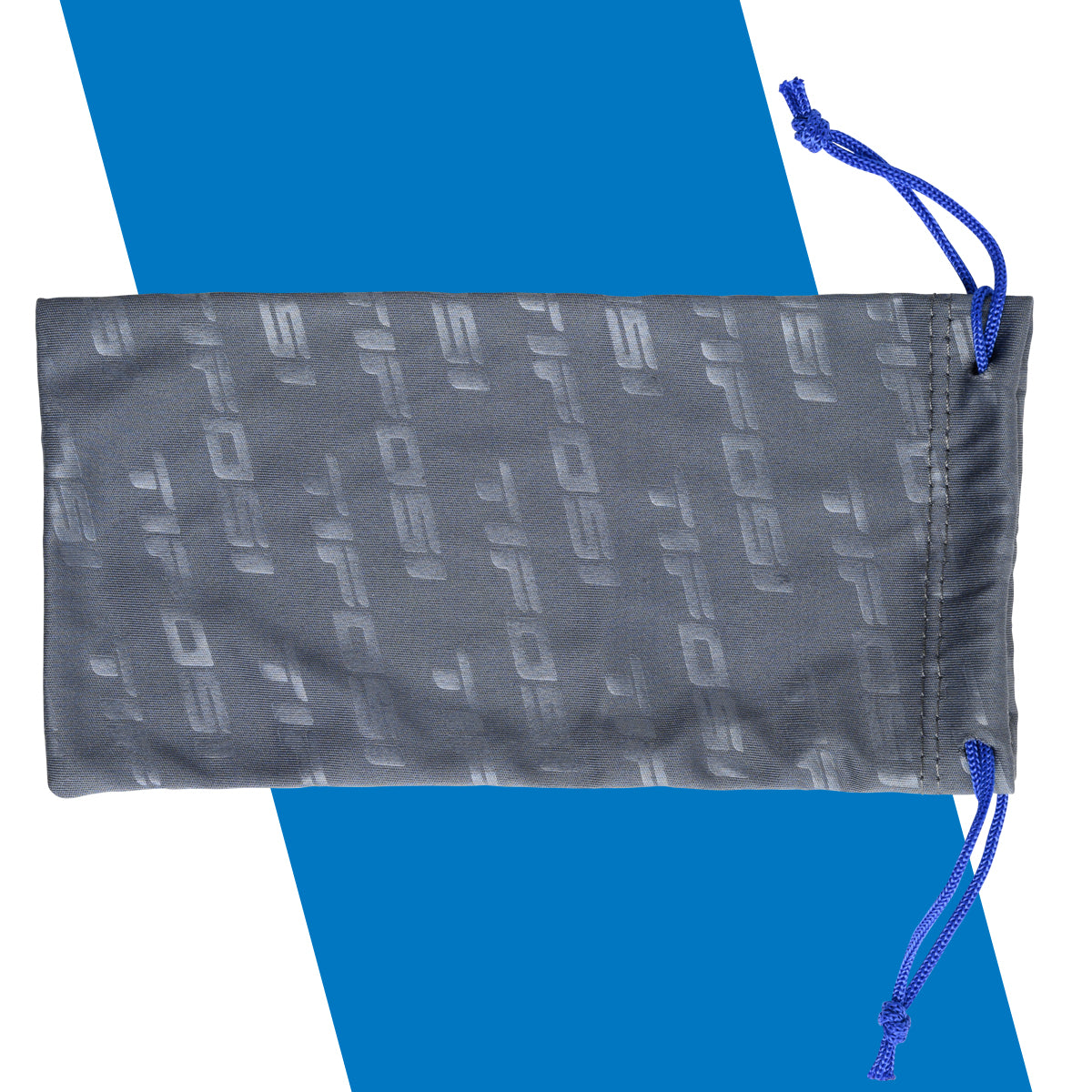 CLEANING BAG INCLUDED
Protect your eyewear and safely wipe clear your lenses with the included microfiber cleaning bag.
My favorite sunglasses!
I love these glasses. I own the Crystal Peach Blush and the Frost Blue. They are very comfortable and fit nicely around my face. Soon I will be purchasing the Satin Vapor which is the same style. I'm pretty sure I will be happy with that one as well.
Great Sunnies!
I'm digging these glasses. Just wish we had more sun here this time of year so I can wear them more often.
Great fit and great quality glasses
Great fit for medium sized face and head. Great quality, this pair is now my daily wear! Love them and will order more, hope they make new colors soon.
COOL!
The color, the build and the look,,,,COOL!
Quality sunglasses for kids
I've been trying to get my kids to wear sunglasses to protect their eyes, but had difficulty finding something they liked enough to actually wear. With Sizzle, I found a pair for each of them in a color that they both liked. The fit was great, and they both seem to like these more than other pairs they've had in the past. These ones are going in protective cases from prior Tifosi purchases.